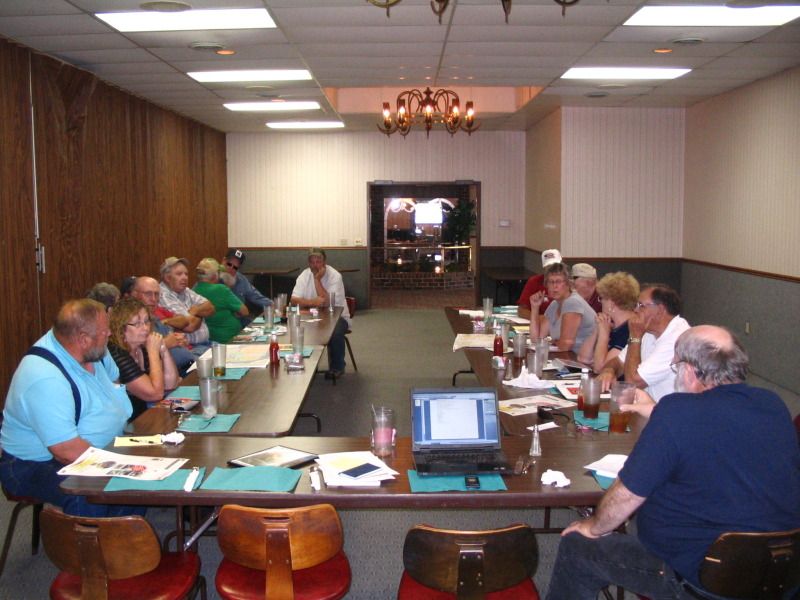 Meeting called to order 12:37 By Chairman Jack Preston
Communication with other segment leaders could be improved. Especially the segment before and following. Radio coverage is very helpful. KRVN was very good about doing this and live news lets local people know where the Relay is so they can come out and see the tractors.
Itineraries need to be mailed out in a more timely manner (within a week or so before drive starts) Complicated detours and routes need maps. Might think about providing support vehicles for drivers without vehicles. (ride to motels, etc)
Lists of motels was very helpful to those driving multiple days.
Banners should be made for next year, two per segment and displayed at host towns before the Relay. One large banner needs to be made right away for use at the State Fair
Jack will start Archive @ FARM for Tractor Relay memorabilia.
Big cities do not want tractors on streets and media coverage is much harder to get.
Last day 80 miles is too long. Missed the Bluff
Time frame, 3 - 3:00 afternoon end stop seemed nice chance to visit and make friends.
Speed of tractors needs to be set to accommodate slowest tractor. WHO ride splits tractors in groups by speed. We may need to do this if the groups are larger than 20-30 tractors. Skip reported he had a hard time keeping his drivers in their assigned group.
Dignitaries: would be nice to have more involved. Jack reported that several were interested but had conflicts that kept them away.
Small towns are way more welcoming than larger towns
Little side stops are very interesting
Goodie bags should be continued and expanded.
Skip would like to stop at Stuhr Museum
The Plainsman Museum in Aurora was not visited but should have been
The group at Scotts Bluff ran out of time to drive the Monument
Police escort very helpful in GI
Breaks should be every 10 miles or so.
Suggested that the route could be modified to follow on the north side of McConaughy
2013 TRAN Tentative Itinerary
Date June 1 2013
Pine Bluff WY Sat
Sidney NE Sun
Ogallala Mon
N Platte Tues
Cozad Wed
Kearney Thurs
GI Fri
Columbus Sat
Fremont Sun
Missouri Valley maybe Desoto Refuge Monday handoff to Iowa there if they want to participate
$20 registration/membership fee and promoters will try to line up sponsored meals.
Moved by Skip, 2nd by Duane - carried
Need to contact National Lincoln Hwy Assn.
Jack will contact Lincoln Hwy
Duane will work on inviting drivers from IA
Jack will continue articles of incorporation
Liability insurance needed
Need TRAN Ride Chairman appointed
Make membership card as part of registration form.
Need new banners by fair time
Howard Raymond, Secretary